Our favorite quote: "After writing a powerhouse letter, your next task is to get it to the right computers. Compiling a list of leads is a real time buster. A company called Custom Databanks can help. Custom Databanks is the premier distribution vendor, long used by professional resume writers and career coaches. Now the company is expanding to serve individual job seekers."
Source: Inquiry Letters Can Pump Up Job Search
By Joyce Lain Kennedy, Tribune Media Services,
Kennedy, Joyce Lain – Careers Now
Posted 01/12/2011 at 4:44 pm EST
Further excerpts from the article:
DEAR JOYCE: As an experienced 47-year-old manager, frustration is eating me alive in my search for employment. Job boards don't seem to be paying off for me, and networking is a slow process. I need to do something that'll revive my search. How much faith do you put in taking the initiative and reaching out with e-mail letters to land a job? And what is the difference between a "broadcast letter" and a "letter of interest? — B.Q.S.
Word games. Career advisers use varying terms for self-marketing, unsolicited direct mail, whether it is presented via e-mail or on paper. The big differences between broadcast and interest letters are merely time and terminology.
Self-marketing direct mail in the 20th century was almost always called "broadcast letters," while the same breed today is often referred to as "letters of interest" or "inquiry letters." By any name, you send these letters to big numbers of potential employers with whom you have no connection. Or you may send them to recruiters who specialize in your function, industry or career level.
Competent campaign. To stack the odds in your favor, you have to do more than write a wimpy "I-I-I" letter (I discovered your company, I'm looking for this, I want that — and other expressions reflecting your hiring hopes from your perspective). Instead, switch mentalities with the busy individuals who read your letter by remembering this five-word formula: TELL THEM WHY THEY CARE. You may be a whiz at finance, office management, whatever — but so what? Make the profit connection for readers — tell them why they care.
After writing a powerhouse letter, your next task is to get it to the right computers. Compiling a list of leads is a real time buster. A company called Custom Databanks can help. Custom Databanks is the premier distribution vendor, long used by professional resume writers and career coaches. Now the company is expanding to serve individual job seekers.

For $9.99 each, you can download an e-book directory that lists hundreds of search firms in your field or locale; each listing includes the data you need — firm name, key contacts, e-mail and postal address, phone number, description, industry and position specialties, whether retained or contingent, and minimum salary of assignments.
The e-books are drawn from Custom Databanks' regularly cleaned digital vault of more than 15,000 selected industries, positions, cities and states.
The e-book directories are available on Amazon.com and BarnesandNoble.com. They are designed to be read on Kindle or Nook e-readers. If you don't have an e-reader, both Amazon and Barnes & Noble offer free apps that allow you to use your computer, tablet or smart phone to read the directories. You can sample before you buy. For more information on saving time, money and sanity to proactively distribute your resume, visit customdatabanks.com/e-book-directories-2. …
(E-mail career questions for possible use in this column to Joyce Lain Kennedy at jlk@sunfeatures.com; use "Reader Question" for subject line. Or mail her at Box 368, Cardiff, CA92007.)
************************************
From RileyGuide.com, the Web's premier directory of employment information sources since 1994.
Special Announcement: Directories of Executive Search Firms
Custom Databanks has just released their eBook Directories of Executive Search Firms for the Kindle or Nook ereaders. These ebooks are available to you at the cost of $9.99 each …  The eBooks are available from Amazon or Barnes & Noble and you can look at a free sample before you buy. Don't have a Kindle or Nook? Both Amazon and B&N offer free apps that let you turn your iPhone, iPad, Android, and even your PC into an ereader.
Don't know who Custom Databanks is? Read my review of their site: Custom Databanks, Inc. This is the info on executive search firms available through CareerSearch. This is a competitive product to Kennedy [Information]'s, but in many cases they may provide more contact names for each firm listed. Select Download Data from the left menu to search their directories of Retained or Contingency search firms by industry or position specialty, salary range handled, and cities/states/regions (US and Canada). They will tell you how many records have been found and the cost before you buy, but here's another interesting feature. They'll tell you how many firms have email addresses, fax numbers, or merely postal addresses. You can buy whichever list you want based on your needs (but I suggest you don't limit yourself to those firms with email addresses.) You are buying a data file that can easily be imported into Excel or any word processor for mail-merge and campaign management. Custom Databanks has also made 2 other databases available through their website, Growth Companies and Venture Capital firms. Custom Databanks now offers eBook Directories of Executive Search Firms for the Kindle or Nook ereaders for an extremely reasonable price. Select your eBook from the list of those available.
************************************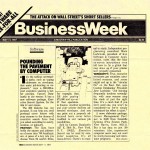 From BUSINESS WEEK/MAY 11, 1987, page 166 
POUNDING THE PAVEMENT BY COMPUTER
"It's the tedious secretarial tasks, such as typing addresses on envelopes, that make job-hunting so unpleasant." says a $50,000-a-year executive seeking a better position. Custom Databanks to the rescue:  It has a new software package, Executive Search System, for the IBM PC and clones.
The $50 diskette has one purpose. It can help you send personal cover letters with your resume to dozens of executive search firms that you select according to salary, location, or industry.
PRINTOUT. The database holds the names and addresses of more than 700 headhunters.  A press of a key lets you choose from 82 search firms, for example, that fill jobs paying $75,000 and up – or 57 that specialize in fiance.  Another keystroke, and your printer delivers addressed envelopes.  And you can print out a properly addressed basic cover letter modified to suit various job possibilities.
Sold by Custom Databanks (New York, NY), Executive Search can be used by computer neophytes.  It's all menu-drive – there's no manual to study. Independent programming consultant Mark Ludwinski, president of MAL Software & Computer Applications, notes that the easy on-screen instructions even tell you how to fix a glitch that may show up if your printer isn't properly connected.
'SERENDIPITY.'  True, executive recruiters get countless unsolicited resumes, and yours might end up in the 'circular file' on the floor.  But, says Custom Databanks' President Jane Lockshin:  "Job hunting frequently involves serendipity, with your resume atop the stack at just the right time. It's a cinch that if you don't send one, you won't be considered—so we've simply minimized the effort it takes."…  Don Dunn
************************************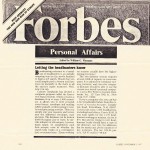 From Forbes/November 2, 1987, page 212 
Personal Affairs
Edited by William G. Flannagan
Letting the headhunters know
Broadcasting a resume to a battalion of headhunters is an awfully tempting way for the newly beached to begin a job search.  Would that you could simply push a button and have your vita instantly in the mails to all the nation's major recruiters.  Well, now you can.
Custom Databanks has devised a computer program called the Executive Search System, which contains a database of up to 1,400 recruiters.  It allows you to print personal cover letters, envelopes and mailing labels yourself, without going to costly word processing services.  Then you simply slip your resumes and letters into the addressed envelopes, mail and pray.  The database can be broken down by region (city or state), by specific industry or job category, by minimum salary, by assignments each firm accepts, even by whether the search firm works on a contingency (fee) or retainer basis.  (Those working on retainer usually have the higher paying positions.)
The two-diskette system requires at least 320K of capacity in your computer. It is tailored for computer novices, however, and even the computer-illiterate should be able to use the system on a friend's personal computer. Cost is $50. …– W.G.F
************************************